Jeffrey Campbell Sandals | Jeffrey Campbell Yoko | Jeffrey Campbell Romana Festival Sandals
As summer approaches, new flat sandals are a must and some of the best sandals are of course by Jeffrey Campbell – my favorites are the lace up JC Yoko Sandals (Currently out of stock but hopefully back again for spring/summer – scroll down), the JC Romana Festival Sandals, and the JC Castaway Sandals.
Tall Tribal Print Festival Sandals
As someone who normally prefers a platform wedge or a high heeled bootie or shoe, finding a summer flat often proves a challenge. I still want something that has that cool factor that is more easily won with towering heels and wedges. I think these Jeffrey Campbell sandals manage to achieve that cool vibe that I want with a comfort level appropriate for all day at a music festival or a day at the park or wherever else the lazy days of summer take you.
The Romana Festival sandals are one of the best flat sandals I've seen for summer especially at a reasonable price. The Navajo -esque print, and the gladiator styling and the silhouette of the tribal print festival sandals all work well together. I think the print works well with a lot of colors and prints so it can work with quite a bit of the closet. Don't limit wearing them with just colors that are in the sandals – they look amazing with other prints and colors for a truly bohemian look. The Jeffrey Campbell Romana sandals are 13″ tall and go up the calves for a cool warrior princess look. If you aren't feeling them in the tribal print, the Romana festival sandals also come in tan suede. If you scroll down, I have a few ideas for what I want to wear with the tall buckle up sandals.
New for 2012, the Romana Fest Sandals are available in black. These are gorgeous – these have become a collectors item on some level – you need one in every print and color! My favorite are still the tribal but the black are pretty great too and may suit some wardrobes better.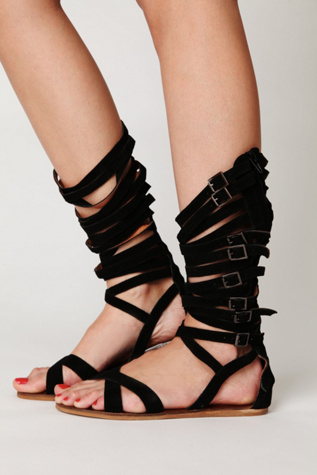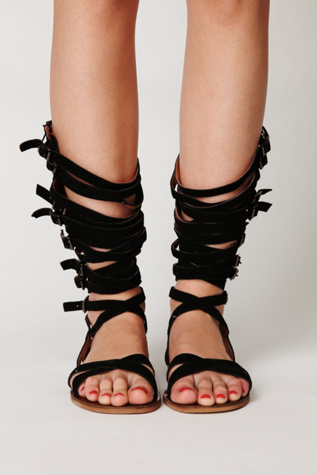 Black suede gladiator = warrior princess perfection.
Black Jeffrey Campbell Festival Flat Sandal
Another pair of perfect summer sandals with a 60s and 70s vibe are the Jeffrey Campbell Castaway sandals. With a desert island inspiration – these look like they are hand woven leather but they are actually knotted elastic making them easy to get on and off and lightweight. They zip up the back. The Castaway mesh sandals are great bohemian sandals that go up around the ankle.
Another one of the best sandals for spring and summer are the Jeffrey Campbell Yoko sandals. Good news too! As of this update – the Yoko Sandals are on SALE. Get them now! These burgundy suede flat sandals are interesting and have a jet setter feel that I adore. They wrap up and tie with fringe tassels dangling. I like the strappy geometric look of the Yoko sandals. The rich burgundy almost brown suede color is great with everything and the Yoko sandals look like super cool Jesus sandals. JC Yokos look good with shorts and t-shirts and also with rompers, jeans, harem pants and dresses both long maxi dresses and short dresses. Scroll down for some ideas of what to wear with Yoko sandals.
The Yoko Sandals are also available in a rich minky grey color. Here is the Grey Yoko.
Get Tan Yoko Sandals
I love any of these three pairs of Jeffrey Campbell sandals with a boho maxi dress. This cobalt blue one is a standout – a little expensive but really special, the blue caftan maxi would look really good with the Jeffrey Campbell Romana Festival shoes, the Yoko sandals or the Castaway sandals. A sexy little jersey drapey dress would be excellent too. You probably have one in your closet. I love this little melon color dress as it's sexy, has pockets, shows off a tan gloriously, it's affordable and it will look great with the Jeffrey Campbell Yoko flats or the festival tall sandals.
Cobalt Blue Caftan Maxi Dress $328
Coral High Waist Poppy Bright Shorts $52
Embroidered Sheer Mesh Top $88
Shorts and t-shirts are a staple of summer for many people. These JC sandals will look great with the most casual of tees and with denim cutoffs but I also love them with a dressier pair of shorts. This brightly colored pair of poppy coral high waisted shorts are pretty special. A bohemian top is a versatile piece that works with jeans, pants, skirts and shorts and this little mesh embroidery one has the same spirit as the Yoko sandals and the Romana JC sandals. The cute mesh top also comes in black, peach and antique beige along with the blue green. These are just a few ideas for what to wear with the tall sandals, the Castaway elastic woven sandals and Yoko Jesus sandals. Look in your closet and create amazing outfits with what you have.
Another perfect summer festival dress or dress for a day at the flea market or the beach is the Bosworth fishtail dress – shorter in the front so you can really show off those amazing sandals – this one is awesome. It is light and summery, perfect with the Yoko flat sandals or the JC Romana Festival sandals in tan leather. I also like a shorter dress with the sandals, whether a bit dressier but still cool and wearable like this Unif Choker dress or something super casual like a little vintage cotton sundress.
For sandals – my favorites are definitely the Yoko, the Castaway and the Tall Strappy Romana Festival Sandals.
Tall Tan Suede Festival Sandals
Tall Black Suede Festival Sandals
Tall Tribal Print Festival Sandals
If you want to buy the Jeffrey Campbell Romana Festival sandals, the Castaway or want to purchase the Jeffrey Campbell Yoko Sandals – see above.
Categories:
Jeffrey Campbell Must Haves
,
Sales and Deals
,
Sandals
,
Wear With
Tags:
black bosworth fishtail maxi dress
,
black suede festival romana fest flat sandals
,
brown net sandals
,
brown yoko
,
castaway sandals
,
flat sandals
,
flat sandals sale
,
gladiator sandals
,
Gray
,
grey yoko
,
ivory unif choker lace dress
,
jeffrey campbell castaway
,
Jeffrey Campbell sandals
,
jeffrey campbell yoko sandals sale
,
leather mesh
,
navajo print
,
roma festival sandals
,
romana festival sandals
,
romona festival sandal
,
tall sandals
,
tan suede
,
tan suede jesus sandals
,
tan yoko sandals
,
tribal print sandals
,
what to wear with gladiator sandals
,
yoko sandals