Jeffrey Campbell Wishlist Knee High Boots
I have been coveting the Jeffrey Campbell Wishlist Over the Knee Boots since I first laid eyes on them. This may be the fall I finally get them. First, check out the JC Wishlist in new rich bold colors.


Purple Wishlist Boots on SALE


Red Wishlist Boots on SALE

New for fall, the red Jeffrey Campbell Wishlist boots and the purple tall boots are bold statement boots that are sure to make your winter interesting, cozy, comfortable and stylish. In bright suede colors, these otk boots make a statement in bright red or pretty purple. If you like the classic style of the tall, slouchy Wishlist boots but don't want to wear a bright color boot everyday, these come in the brown and black that originally started it all too.
The Wishlist is a rich luxe classic looking boot that is perfect for wearing everyday but cool enough that they make a statement.
Buy Black Jeffrey Campbell Wishlist Boots
These boots are called Wishlist for a reason – they are so cool, they are often hard to find in your size although as of this posting they are available in size 6, 7, 8, 9 and 10 in both black and brown and they have that classic covetable quality that makes for a wishlist of a boot!
The Wishlist tall boots have a 20″ shaft making them nice and tall – over the knee on some, and just up to the knee depending on your legs. I love the way these look with shorts, with dresses and skirts. You can do them with jeans of course too. The Wishlist boots slip on and have a cushioned foot bed and a 1.25″ heel so they are great flat boots for walking around town for hours.
Wishlist by Jeffrey Campbell come in brown distressed leather and black leather. If you are looking for a tough girl biker boot – the black is perfect. The basic buckle detail at the ankle and the classic shape makes these awesome tall knee high motorcycle boots. The brown Wishlist is great for an earthy, more bohemian pairing. Both are so good – it is kind of impossible to choose between the brown or black.
The Wishlist are also made in grey – waiting for a restock on those. The grey color is really pretty. Fur lined styles have also been introduced but I'm partial to the regular Wishlist boots.
I want to wear Wishlist with everything, absolutely everything but here are a few ideas of things that are inspiring me to wear them this fall/winter.
I am pretty obsessed with kimonos and this red drapey crinkle kimono jacket would look terrific with the black or the brown Wishlist. Pair it with shorts and the Wishlist or jeans or a maxi skirt with a tight t-shirt or tank underneath. Black or brown would also look spectacular with this little shaggy black coat and a pair of short shorts. This outfit would be outstanding with a pair of JC Lita booties but for a look you can wear for days in major comfort – the Wishlist boots are super hot to pair with these pieces.
Red Crinkle Chiffon Kimono Jacket $148
Black Shaggy Knit $138
Leopard Zip Shorts $98
I love a little girly dress with a pair of tough rugged boots – this denim bustier dress is super sweet and would be great solo or with a blouse underneath or a shrunken blazer and belt on top or a 70s blouse under it. A t-shirt would be cute too. Tons of options. A floral 90s inspired girly dress is another terrific pairing for the Wishlist boots or any rugged knee high boots – perfect comfortable flirty outfit.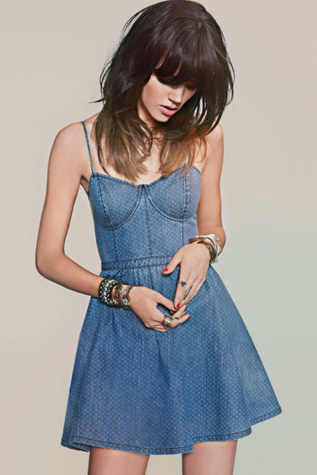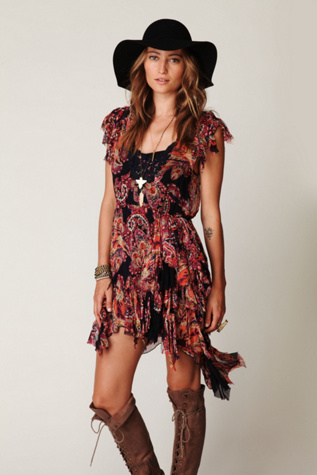 Floral Tissue Flutter Dress $148
I also think the boots are phenomenal with something vintage 50s or frou frou – like something Betsey Johnson poufy. This pretty mauve dress is a bit of a modern update with a high low hemline and would look so pretty with the Wishlists. To really amp it up, wear it with one of these insane mystery girl masks – so luxe and sexy. Perfect party attire – throw on a black leather motorcycle jacket or huge fur overtop and you are party perfect!
Mysterious Stranger Tattoo Mask $98
Dreamy 50s Style Chiffon Dress $78
Rock the Black JC Wishlist with a pair of cutoffs and an ultra sexy sheer top like this bodysuit with opaque hand prints covering you up where you need it. Next to it a gorgeous vintage dress in bright red – a very Marilyn Monroe look that I think would be excellent with a black biker jacket and the black Wishlist tall boots.
Idle Hands Bodysuit $68
Red Marilyn Vintage 50s Dress
Wear them with vintage, with new – go fancy or super laid back – the Wishlist are a great go to over the knee or to the knee leather boot option for fall.
Check them out again – gorgeous!

Are the Jeffrey Campbell Wishlist boots on your Wishlist or are you eyeing something else for fall?
Categories:
Jeffrey Campbell Boots
,
Jeffrey Campbell Flats
,
Jeffrey Campbell Must Haves
,
Jeffrey Campbell Shoes
,
Wear With
Tags:
black leather over the knee boots
,
black wishlist
,
bright color suede tall over the knee boots
,
brown leather over the knee boots
,
brown wishlist
,
curlicue masks
,
denim buster dress
,
fall jeffrey campbell tall boots
,
grey wishlist
,
handprint sheer black bodysuit
,
idle hands bodysuit black sheer
,
jeffrey campbell wishlist
,
jeffry campbell wishlist
,
knee high leather boots
,
leondoro italian cut metal crystal masks
,
minkpink black shaggy coat cardigan
,
purple wishlist
,
red wishlist
,
wishlist 2
,
wishlist boots