Jeffrey Campbell Rainbow Brite and Rainbow Popo Platforms
Just when things were getting dreary, I saw these rainbow bright flat forms by Jeffrey Campbell – so much fun!
Jeffrey Campbell Rainbow Brite Gold
Jeffrey Campbell Popo Rainbow Multicolor

With a stacked high rainbow platform, these shoes are sure to delight and add lots of color to any outfit. The Popo have multicolor straps in a rainbow of sweet bright colors atop a layered platform wedge sandal. The heels are 4.25″ with a 3.25″ platform so they aren't going to feel too steep to walk in.
Here are some close ups of the JC Popo Rainbow Platforms.


JC Popo Rainbow

The Rainbow Brite platforms are similar but have a gold leather strap and a different style strap detail. Also super cute with that layered rainbow of color mega platform. The Rainbow-brite shoes also have a 4.25″ heel with a 3.25″ platform making them almost like flat form shoes. Here are some close ups of those – you can click on any of the pics to see more details or buy the Rainbow Brite Jeffrey Campbell shoes from one of my fav online retailers Karmaloop – TONS of good stuff.


Gold Jeffrey Campbell Rainbow Brite
Now, for a couple of outfit ideas – what to wear with the Rainbow platforms. I think they'll look amazing with a 70s style maxi dress or sun dress. Also super cute with some short shorts or denim hot pants. A pair of 70s style bells in a bold color would also be really fresh and fun.
Electric Blue Jeans $98
White and Rainbow Bohemian Dress $268

I love these electric blue jeans and think they'd be a nice bright and bold pairing with the Rainbow Popos or Brites. You can do any color on top and I'd add a long drapey sort of cardi, kimono or vest on top. I also love a breezy sort of Mexican dress like this rad one from Free People. The colors aren't a direct match but the gold Rainbow Brite  platforms would still be super cute paired with it in my eyes. The free spirited vibe is perfect for the coming spring and summer or your vacation of course.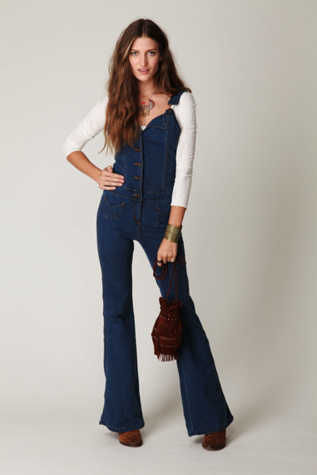 Plum Baby Pleat Maxi Dress $88
Nightcap Denim Overalls $268
I think a 70s inspired (or better yet a 70s vintage) dress is fantastic with these shoes that have a playful 70s retro feel. This gorgeous purply plum one is terrific and flowy and just beautiful. It is also affordable and could be worn so many different ways with different jewelry or shoes and such so it feels really versatile. I am also a total sucker for a onesie – jumpsuits, overalls, rompers – they all work for me. This Nightcap denim pair is adorable. I think it would be so cute with the Rainbow Brite platforms or the Popos. Just add a bright vintage tee or a super soft drape tank undeneath.
And speaking of rainbow platforms…
In case you didn't get your hands on them last season, the awesome Rainbow Groovie platforms are another cool option and are SUPER CHEAP right now on sale at a ridiculous under $80 price. You can click on the pics to see the sizes that remain – last time I checked there was a 9 and a 10 in the nude Groovie and sizes 7, 8, 9 and 10 in the gold t-strap Groovie. I also was crazy about the Rainbow avalon platforms which were brighter and even crazier but I haven't seen those around this season.


Groovie Nude Rainbow Platform SALE $79.90
Groovie Gold Rainbow Platform SALE $79.90

Finally, back to the shoes we started with – multicolor or gold, strappy or a bit more basic – which do you prefer?
Jeffrey Campbell Rainbow Brite Gold
Jeffrey Campbell Popo Rainbow Multicolor

Which of these super bright Jeffrey Campbell Rainbow Platform shoes do you covet?
Categories:
Feminine Wedges and Heels
,
Flatforms
,
Jeffrey Campbell Shoes
,
Platform Wedges
,
Sandals
Tags:
electric blue jeans
,
free people color me bad dress rainbow trim
,
gold rainbow shoes
,
jc rainbow-b
,
jeffrey campbell popo
,
jeffrey campbell rainbow brite
,
multicolor rainbow brite shoes
,
nightcap denim overall jumpsuit
,
popu
,
purple baby pleat maxi dress
,
rainbow b
,
rainbow bright
,
rainbow flat forms
,
rainbow flatforms
,
Rainbow platforms